Wireshark is an open source tool for profiling network traffic and analyzing packets. Such a tool is often referred to as a network analyzer, network protocol analyzer or sniffer.
Wireshark, formerly known as Ethereal, can be used to examine the details of traffic at a variety of levels ranging from connection-level information to the bits that make up a single packet. Packet capture can provide a network administrator with information about individual packets such as transmit time, source, destination, protocol type and header data. This information can be useful for evaluating security events and troubleshooting network security device issues.
Wireshark will typically display information in three panels. The top panel lists frames individually with key data on a single line. Any single frame selected in the top pane is further explained in the tool's middle panel. In this section of the display, Wireshark shows packet details, illustrating how various aspects of the frame can be understood as belonging to the data link layer, network layer, transport layer or application layer. Finally, Wireshark's bottom pane displays the raw frame, with a hexadecimal rendition on the left and the corresponding ASCII values on the right.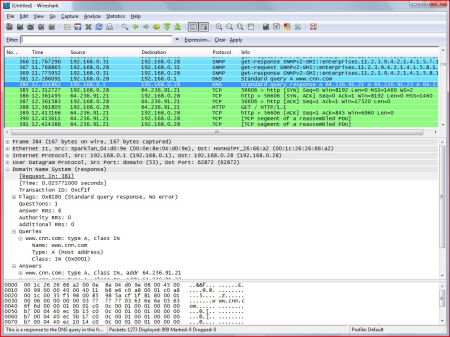 Because Wireshark can also be used for eavesdropping, an organization using the tool should make sure it has a clearly defined privacy policy that spells out the rights of individuals using its network, grants permission to sniff traffic for security and troubleshooting issues and states the organization's policies for obtaining, analyzing and retaining network traffic samples.
Wireshark is licensed under the GNU General Public License.
See also: TCPdump, OSI (Open Systems Interconnection)
This was last updated in
June 2011
Continue Reading About Wireshark