6 must-have big data skills to land a big data job
Learn which types of big data jobs are in demand and which six specialized skill sets are necessary to compete in this potentially lucrative data management field.
Organizations across all industries are increasingly relying on big data to make informed business decisions. The thoughtful and thorough analysis and synthesis of massive data sets can provide them with invaluable insights to support strategic business decisions. This includes direction on which new products to develop based on customer behavior and buying patterns and where untapped potential may exist in new geographies or markets.
It isn't surprising that big data proficiency is being hailed as the most in-demand skill of our century. But, while the big data job market is burgeoning, the demand for experts in the field outpaces their availability. Meanwhile, the realm and scope of big data roles continue to broaden and diversify.
Learn about the most common big data jobs and some of the critical competencies required to enter this exciting and potentially lucrative field. This information applies to students exploring career options, as well as technologists or business professionals looking to sharpen their skills or even change careers.
What big data skills do you need?
The field of big data typically comprises several specialized -- yet related -- skill sets. Let's define and differentiate between these roles:
It isn't surprising that big data proficiency is being hailed as the most in-demand skill of our century.
Data scientists are widely perceived as fundamental in driving the world of big data forward. They collect, analyze, manage, structure and interpret large volumes of data from a range of sources. Data scientists then use reporting tools to pinpoint patterns, trends and interrelationships between the various data sets.
Data and computer engineers and architects are critical to supporting data scientists. They create the underpinning software architecture and design, build, and manage the infrastructure and scalable data management systems that data scientists need to perform their analysis.
Big data analysts detect and analyze actionable data, such as hidden trends and patterns. By fusing these findings with their in-depth knowledge of the market in which their organizations operate, they can help leaders formulate informed strategic business decisions.
Big data developers apply their deep understanding of technologies such as Hadoop and Apache Spark with programming languages such as Java, Python and Scala to process data. By drawing on deep proficiencies in functional programming paradigms, they can effectively ingest data into broader big data platform ecosystems.
Big data specialists interrogate, ingest, analyze and transform complex sets of data. This ensures the necessary data is made available to the other team members who use it to uncover actionable insights and provide recommendations to improve business outcomes.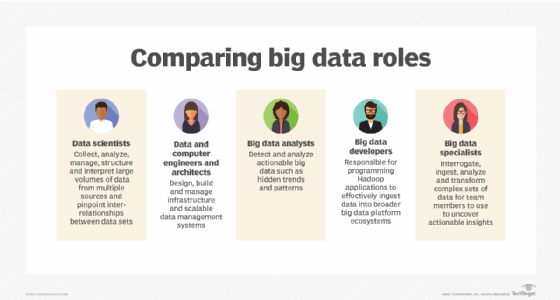 Now that we've clarified some of the key big data roles, let's explore the unique blend of skill sets required to perform these functions.
1. Programming languages
Those seeking a career in big data would do well to invest time and effort in mastering coding and honing their programming skills. Employers are particularly interested in hiring professionals who are well versed in programming languages, such as Python, JavaScript, SAS and SQL/NoSQL, as well as the MapReduce and Apache Spark frameworks. Additionally, those with higher degrees in quantitative subjects, such as statistics and mathematics, and who are proficient in advanced analytical tools and technologies, machine learning, and predictive analytics and modeling, are in high demand.
2. Machine learning
Aspiring big data professionals would do well to become proficient in machine learning technology. It's beneficial in managing complex data structures and learning patterns that are too complex to tackle effectively using more traditional data analytics techniques. These professionals will need to have mastered statistical programming skills to advance in this area.
3. Data mining
By using software to find patterns in large batches of collected data, businesses can gain granular insights about their customers. This enables them to develop more targeted and personalized marketing strategies, drive up sales and cut costs. Expertise in data mining tools and technologies is in high demand when it comes to securing big data jobs. Proficiency in tools such as RapidMiner, Apache Mahout and Knime are among the most scarce and sought-after data mining skills in the market today.
4. Predictive analytics
Predictive analytics, which involves forecasting and modeling different scenarios and outcomes, is emerging as a pivotal element in mastering the art and science of big data. This approach uses mathematical tools to look for patterns in existing or new data to envisage future events, customer behaviors and investment returns. There are myriad use cases and applications for predictive analytics in different industries.
5. Quantitative analysis
Quantitative analysis is inherent to big data because it pivots on the use of mathematics, especially calculus and linear algebra. Aptitude and experience in these domains will give a big data professional a head start in understanding the statistics and algorithms fundamental to excelling in big data roles. Professionals should be familiar with tools such as SAS, IBM SPSS Statistics and the R language.
6. Data visualization
Analyzing, synthesizing and making sense of big data are all in a day's work for a successful big data professional. But being able to articulate those findings in an engaging and compelling manner is also critical. Therefore, data visualization is an essential part of their toolkits. Professionals who are most effective in their efforts typically use attention-grabbing graphics and charts to aid them in presenting their findings clearly and succinctly. Data visualization tools offered by Tableau and D3.js can help meet these requirements.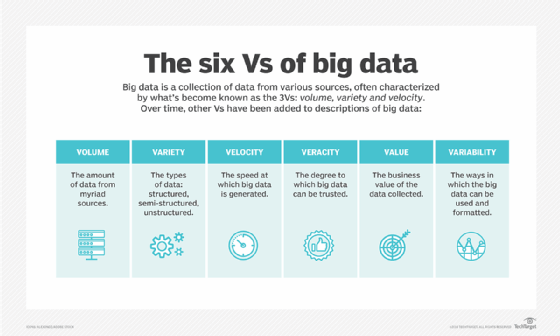 Building blocks to a successful career in big data
For professionals who are serious about exploring this as a career path or adding big data qualifications and experience to their existing professional portfolio, there are several options and resources available. Many universities offer undergraduate and graduate degrees relating to big data. Numerous courses and learning modules are also available online to help students develop big data skills. Analytics vendors also offer established training courses aimed at those seeking to upskill themselves in this domain.
For those who've set their sights on advancing their career in big data, there's no better time to take advantage of these resources.
Learn how big data and AI work together but are distinctly different technologies.
Dig Deeper on IT career paths