Definition
Citrix App Layering (formerly Citrix AppDisk)
Citrix App Layering is software that separates virtual applications from their underlying virtual desktop in a way that enables them to take advantage of the host operating system's native functions.
How does Citrix App Layering work?
Citrix App Layering replaces Citrix AppDisk and uses technology Citrix acquired from Unidesk in 2017. Citrix App Layering actually puts applications on a plane separate from the OS and splits the application into three main layers. Each layer is stored as a virtual disk. The base layer contains the OS itself. The next layer is where the application and its binaries, registry keys and more actually live. The top layer is where user data, including profiles, resides.
Application layering works beneath the operating system and actually layers the operating system itself. Citrix App Layering can layer nearly any application, even if the application has deep operating system-level dependencies.
With Citrix App Layering, IT administrators can deliver, manage and update applications independently from virtual desktops. It also enables IT to update an application once and have those updates apply to anyone using that application, rather than having to update each image the application is a part of.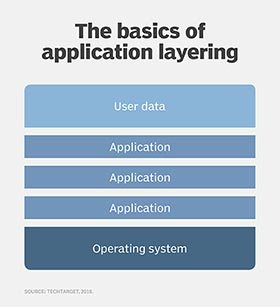 Citrix App Layering applications function as if they are installed natively on the host OS. As a result, the applications still interact directly with the OS and other applications. This differs from application virtualization, where the app is shielded from the OS and isolated from other apps.
Citrix App Layering virtualized applications are designed to be completely portable. A packaged application -- an application built with all the specific scripts, binaries and registry keys it requires to meet specific needs -- can run in a virtual desktop deployment or even in a public cloud, such as Microsoft Azure. Citrix App Layering is compatible with any hypervisor.
Why is Citrix App Layering important?
Citrix App Layering helps with image management because IT no longer has to install each application directly onto golden images of the OS because the applications are separate from the OS, so IT can deliver and update them without installing them on the OS.
A golden image is a template for the OS designed to include the resources a specific group of users needs. As a result, when IT creates a new desktop or virtual desktop from the image, all the necessary applications are present. It also limits image sprawl because IT no longer has to create an image for each department or group of users that work with a different set of applications than other departments or groups of users.
History of application layering
Application virtualization tools based on layering have existed for quite some time. Legacy application layering products commonly worked by monitoring the application installation process, and then creating a package that contained all the binaries, registry entries, drivers and other components that were installed as a part of the application. The resulting package contains everything necessary to run the application, without actually having to install the application on the PC.
Unidesk, which was founded in 2007, was one of the major players in the application layering market before Citrix acquired it. Another was CloudVolumes, which was founded in 2011 and then acquired by VMware in 2014.
Citrix App Layering options
Organizations that already use Citrix XenApp Advanced, Enterprise or Platinum editions or Citrix XenDesktop VDI, Enterprise or Platinum editions are entitled to use Citrix App Layering. In addition, companies that work with Citrix Workspace and have Citrix Customer Success Services Select activated can use App Layering. Citrix App Layering is also included in three Citrix Cloud packages -- XenApp Service, XenDesktop Service and Workspace Service.
Some of App Layering's competitors in the market include VMware App Volumes and Liquidware FlexApp
This was last updated in
October 2017
Continue Reading About Citrix App Layering (formerly Citrix AppDisk)
Dig Deeper on Virtual desktop delivery tools