What is DuckDuckGo?
DuckDuckGo is an independent company that offers products geared toward internet privacy. The company, officially named Duck Duck Go Inc., is best known for its first product, the DuckDuckGo search engine. The company has since released its own web browser and extensions for third-party web browsers that also focus on internet privacy. The DuckDuckGo name is based on the traditional children's game: Duck, duck, goose.
Gabriel Weinberg founded the company, based in Paoli, Pa., in 2008. The company obtained $3 million in venture capital in 2011 and additional funding subsequently. It generates revenue through advertising that appears in the search results.
The DuckDuckGo search engine is designed to protect user privacy. The company does not track users, save user Internet Protocol (IP) addresses or log other identifying information. It does not maintain a record of its users' search histories or which sites they visited. DuckDuckGo retains aggregate search terms; it does not associate any terms with users. Because of these practices, DuckDuckGo has no search or browsing data to turn over to third-party organizations such as law enforcement agencies or governments.
The only personal information the company retains is what users have voluntarily provided, such as the email addresses of those who sign up for the privacy newsletter. The company's policy is to retain the data only as long as it's needed for its stated purpose, an idea closely aligned to the General Data Protection Regulation (GDPR). After that, the data is deleted, unless applicable laws require it to be retained for a longer period.
Unlike Google, DuckDuckGo does not personalize searches, which can skew results and create what is called a filter bubble. Personalization constrains search results based on user-related information, such as location, personal preferences or search history. With DuckDuckGo, search results are never personalized, although a user can filter results based on factors such as locality, time duration or media type. The search engine never targets the results to the specific user.
DuckDuckGo is sometimes referred to as a hybrid search engine because it compiles results from multiple sources, including its own crawler, DuckDuckBot; crowdsourced sites such as Wikipedia; specialized sites such as Tripadvisor; content sites such as Musixmatch; and dedicated sources such as Dark Sky. The search engine also retrieves traditional links and images from sources such as Bing. DuckDuckGo filters out results that appear to be from content mills.
From the user's perspective, the DuckDuckGo search engine works much like Google, Bing or other search engines. Users go to the DuckDuckGo search page (https://duckduckgo.com) and enter their search terms into the text box at the top of the page, as shown in Figure 1. The results are listed below the search box, beneath any ads that might be included along with the results. In some cases, a small box that contains topic-related information is added to the top of the results, just below the search box. This is known as an Instant Answer.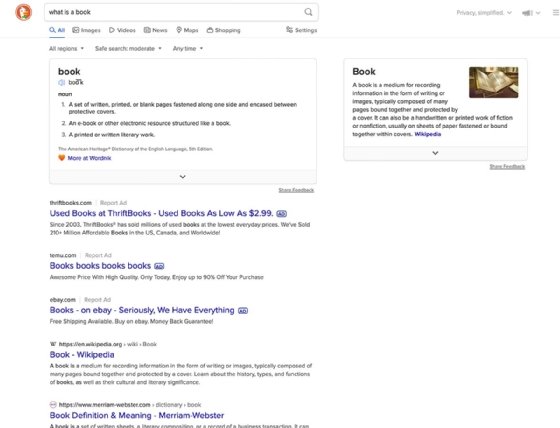 Search results will often include Instant Answers, depending on the topics being searched. For example, they might be included for queries such as flight status, recipes, rhyming words, calculations or statistics. An Instant Answer might also serve a functional purpose such as providing a stopwatch or generating a strong password. In addition, the results might include a box of information to the right of the results.
DuckDuckGo searches also support the !bang feature, which provides shortcuts for searching specific websites. The shortcut is preceded by an exclamation point, followed by an abbreviation. For example, if a user types "!gh python," the user will be redirected to the GitHub site, where a search for "python" will be performed directly on that site. The DuckDuckGo website includes a search feature for finding specific !bang shortcuts.
DuckDuckGo browser and browser extensions
DuckDuckGo's browser, available for macOS, Windows, iOS and Android devices, provides private search, tracker blocking, enhanced encryption and email privacy protection. Figure 2 shows the browser on a Mac computer, with multiple tabs open, similar to what users would see in other browsers.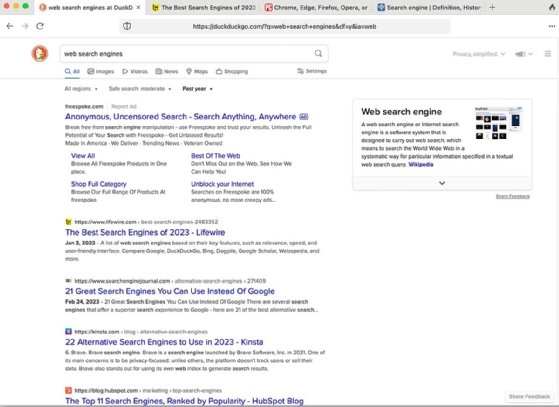 Unlike other browsers such as Google Chrome or Microsoft Edge, the DuckDuckGo browser prioritizes the user's privacy over all other considerations. As such, it is well aligned with increasingly broad privacy laws such as the California Consumer Privacy Act. But the browser is not as feature-rich as these other browsers. For example, it does not offer a reader's view, and it cannot sync data such as bookmarks or passwords between browsers on different devices. In addition, the Windows edition of the browser is still in public beta.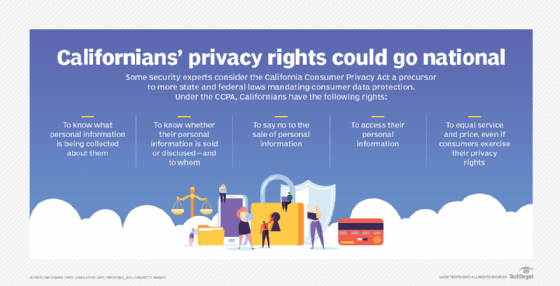 Most users turn to the DuckDuckGo browser primarily because of its multiple layers of privacy protections. The browser blocks most third-party tracking requests and prevents fingerprinting scripts from loading. When users visit a website, they can view which requests have been loaded and which ones have been prevented from loading. A user needs only to click the shield icon at the left of the address bar to see this information, as shown in Figure 3.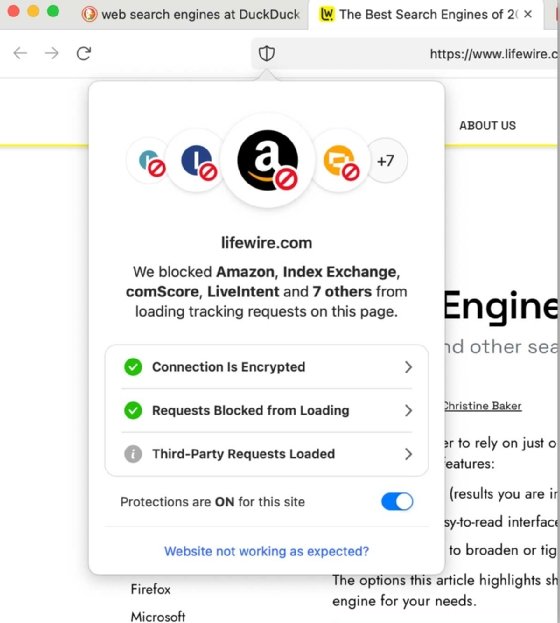 DuckDuckGo uses encrypted connections, where possible, to prevent internet service providers and Wi-Fi snoopers from tracking a user's browsing history. The browser also protects against embedded social media content that contains tracking code, and it provides access to a free email protection service that's available only through the browser.
DuckDuckGo also offers iOS and Android editions of its browser, providing users with an easy way to use the DuckDuckGo search engine and view webpages without sacrificing their privacy. Figure 4 shows the browser window on an iPhone. As with the desktop versions of the browser, the user can filter the results by region, date range and media type.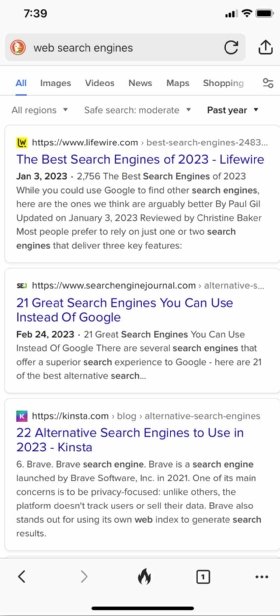 DuckDuckGo also offers an app protection feature that's available only to the Android browser. The new feature, currently in beta, blocks third-party trackers in the apps installed on the local Android device. It can even prevent tracking when the apps are not being used.
In addition to its own browser, DuckDuckGo offers extensions for several of today's leading browsers, including Chrome, Firefox, Safari, Edge and Opera. The extensions add features such as tracker blocking and encrypted website connections. As with the DuckDuckGo browser, the extensions let users view the tracking requests that have been permitted and prevented, as shown in Figure 5. The extension also rates the webpage in terms of its privacy.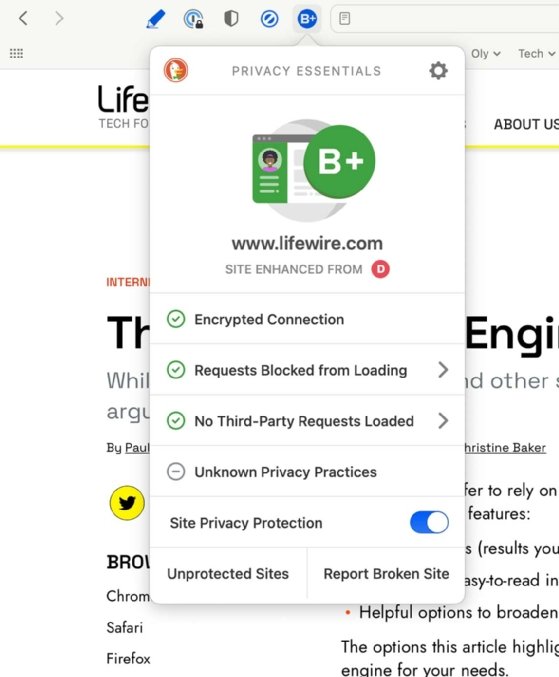 In summary, DuckDuckGo is all about protecting its users' privacy, whether they use the search engine, the browser extensions or the browser itself.
Learn ways to improve your search engine ranking. Also, check out eight free SEO keyword research tools.
This was last updated in
October 2023
Continue Reading About DuckDuckGo