Definition
virtualization architecture
A virtualization architecture is a conceptual model specifying the arrangement and interrelationships of the particular components involved in delivering a virtual -- rather than physical -- version of something, such as an operating system (OS), a server, a storage device or network resources.
The image below illustrates the difference between traditional computing architecture and a virtualization architecture.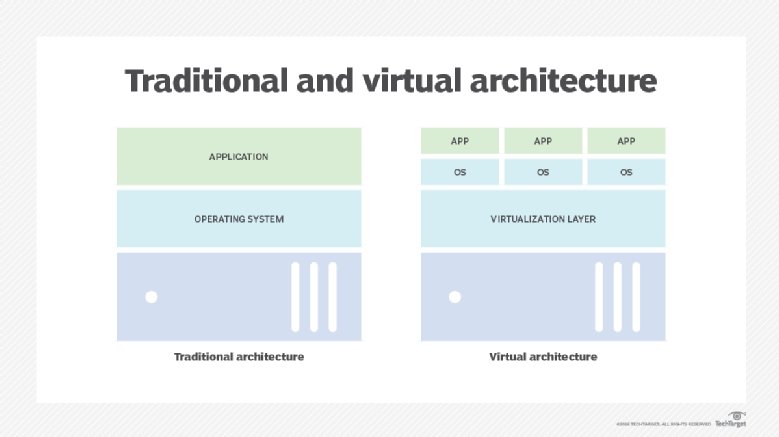 Virtualization is commonly hypervisor-based. The hypervisor isolates operating systems and applications from the underlying computer hardware so the host machine can run multiple virtual machines (VM) as guests that share the system's physical compute resources, such as processor cycles, memory space, network bandwidth and so on.
Type 1 hypervisors, sometimes called bare-metal hypervisors, run directly on top of the host system hardware. Bare-metal hypervisors offer high availability and resource management. Their direct access to system hardware enables better performance, scalability and stability. Examples of type 1 hypervisors include Microsoft Hyper-V, Citrix XenServer and VMware ESXi.
A type 2 hypervisor, also known as a hosted hypervisor, is installed on top of the host operating system, rather than sitting directly on top of the hardware as the type 1 hypervisor does. Each guest OS or VM runs above the hypervisor. The convenience of a known host OS can ease system configuration and management tasks. However, the addition of a host OS layer can potentially limit performance and expose possible OS security flaws. Examples of type 2 hypervisors include VMware Workstation, Virtual PC and Oracle VM VirtualBox.
The main alternative to hypervisor-based virtualization is containerization. Operating system virtualization, for example, is a container-based kernel virtualization method. OS virtualization is similar to partitioning. In this architecture, an operating system is adapted so it functions as multiple, discrete systems, making it possible to deploy and run distributed applications without launching an entire VM for each one. Instead, multiple isolated systems, called containers, are run on a single control host and all access a single kernel.
This was last updated in
March 2017
Continue Reading About virtualization architecture