8 top blockchain certification courses to pursue in 2023
Numerous blockchain certification courses are available for beginners and seasoned professionals, so we narrowed the field to some of the more diverse and comprehensive programs.
As enterprises dip their toes deeper into the business uses of blockchain, a new job market is forming around blockchain architecture, development, project management and sales. For many individuals, blockchain represents greener pastures that, if acted upon quickly, can provide lucrative and highly sought-after careers.
Yet many people interested in becoming blockchain professionals possess little or no experience in the field -- and aren't even sure where to start. That's why blockchain certifications are becoming more popular. Certifications have long been part of the business world and flourish in fields like information technology, project management, financial services and sales. So, it makes sense for those planning a career in blockchain to take relevant courses and receive a certificate of completion that represents an acquired skill set. These certifications can help blockchain career candidates stand out from the pack and are a great way to land a new role in a field that has tremendous growth potential.
What are the types of blockchain certification courses?
Roles within the blockchain field vary widely, but nearly every job requires at least a basic knowledge of blockchain technologies and how they can be used to benefit private and public organizations. Since blockchain is still a relatively new concept, virtually all courses and certifications start out with an introduction to blockchain and associated concepts and terms.
Some blockchain certification courses cover just the introductory level, while others provide more detailed information on how to design, program and secure the various parts of a blockchain system. In most cases, these certifications are geared toward developers and architects that require more in-depth technical information.
In addition, a handful of courses focus on a specific aspect of blockchain -- in the form of a specific programming language or developer specialization. These courses are best for those who already have a solid introductory blockchain foundation and want to increase their skills with a specific developer and architecture subset.
What are the benefits for blockchain certification holders?
Certifications typically prove some form of expertise in a field that interests the student and job candidate. Because blockchain skills are in such high demand, blockchain certification holders can benefit in many ways:
What are the top blockchain certification courses?
We've compiled a list of eight of the best and more popular blockchain courses that address various types of blockchain business roles and provide students with a certificate for completing the course material and passing a certification exam.
Professional Certificate in Blockchain Fundamentals (EdX/University of California Berkeley)
Key elements: BerkeleyX's Blockchain Fundamentals Professional Certificate program consists of two courses offered by the University of California Berkeley: (1) Bitcoin and cryptocurrencies and (2) blockchain technology. Self-paced over three months, these courses examine the mechanics of Bitcoin, the wider cryptocurrency market and the fundamentals that comprise blockchain technology. The program then dives deeper into potential blockchain implementations within the enterprise, including Quorum, Ripple, Tendermint and Hyperledger. Topics covered include the following:
real-world applications of Bitcoin and other cryptocurrencies;
understanding the Ethereum platform;
the future of blockchain and how it will be applied to economies of the future;
enterprise-level blockchain implementations;
how to develop blockchain products; and
detailed information on blockchain-related careers and salaries.
Prerequisites: Students are expected to have taken the previous course in the series, Cryptocurrencies: Bitcoin and the Crypto Space, or have similar experience and knowledge in this domain.
Certified Blockchain Expert (Blockchain Council)
Key elements: This self-paced, eight-hour certification course provides a thorough understanding of blockchain technologies, mining and security practices. Students are presented with real-world use cases where blockchain technologies can be applied in various verticals such as finance, healthcare, insurance, government and telecommunications. Topics covered include the following:
Prerequisites: For those interested in designing and building blockchain-based business applications for the private and public sectors.
Certified Blockchain Security Expert (CBSE)
Key elements: This self-paced, four-week certification course builds a theoretical and practical foundation of blockchain security, including coursework on existing and emerging threats, threat modeling, algorithm security and smart contracts. Since blockchain is still a relatively new concept in most industry and government verticals, a solid foundation in blockchain security ensures deployed blockchain technologies are operating securely. Topics covered include the following:
blockchain structure basics;
threat modeling and vulnerability assessments;
types of blockchain cryptography, including public keys and hash functions;
consensus algorithm security using two popular blockchain algorithms;
blockchain node and network security;
smart contracts and associated vulnerabilities;
testing the security of a blockchain system; and
ensuring blockchain security best practices in enterprise settings.
Prerequisites: For professionals seeking greater focus on the security aspects of blockchain technologies, including blockchain developers, CIOs and IT managers; software architects, engineers and developers; and enterprise and cloud architects.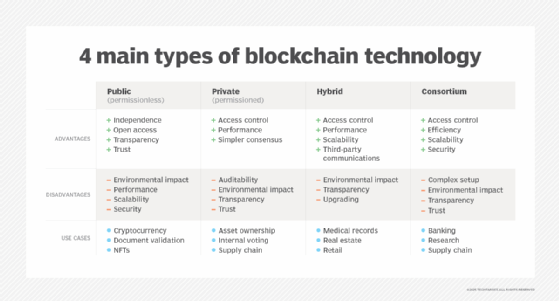 Blockchain: Foundations and Use Cases (ConsenSys Academy and Coursera)
Key elements: This self-paced certification course takes approximately 10 hours to complete. It provides an understanding of the business side of blockchain and associated blockchain technologies, including coverage of blockchain security basics, why businesses implement blockchain in traditional settings, supply chain and asset tracking use cases, and Bitcoin and Ethereum. Topics covered include the following:
brief history of blockchain;
the purpose of decentralization in blockchain;
hash functions and public key cryptography;
anatomy of a block and a blockchain;
consensus mechanisms and trust frameworks;
real-world blockchain use cases;
smart contracts, cryptocurrency tokens, wallets and marketplaces; and
types of blockchain platforms, architectures and extensions.
Prerequisites: For technology managers, developers and non-developers interested in a beginner-level introduction to blockchain.
Getting Started in Blockchain (LinkedIn Learning)
Key elements: Consisting five courses and six hours of self-paced content, this blockchain certification program provides a foundation of both the basic and advanced concepts of blockchain. The program also provides insights into the business implications of blockchain as well as benefits, risks, obstacles and use cases. Students earn a certificate of completion after they demonstrate their understanding of the content by answering a handful of quiz questions. Topics covered include the following:
problems blockchain solves;
cryptocurrency foundations;
basics of how blockchain works;
growth of crypto coins and crypto tokens;
foundations of decentralized finance; and
blockchain and smart contract security.
Prerequisites: For business leaders, IT management and data science roles.
Blockchain Specialization (University at Buffalo and Coursera)
Key elements: Consisting of four self-paced specialization courses, this four-month intermediate-level certification program provides a brief review of foundational blockchain concepts, the underpinnings of blockchain technologies, how to design, code and deploy decentralized applications and smart contracts, and blockchain ecosystems and permissioned blockchain architectures such as Hyperledger and Azure Blockchain. Topics covered include the following:
Prerequisites: Knowledge of at least one modern, high-level programming language.
Become a Blockchain Developer (Educative)
Key elements: Like the LinkedIn crash course on the basics of blockchain, this self-paced, fully text-based, six-hour certification program on blockchain development gets seasoned programmers up to speed on designing and deploying blockchain networks, Chaincode and blockchain applications. Topics covered include the following:
blockchain basics and terminology;
blockchain trust models and data structures;
hash and cryptography functions;
Bitcoin history, mining and value;
Hyperledger networks, transaction processes and development tools;
how to deploy a fabric network;
writing and deploying Chaincode; and
creating and deploying a client application.
Prerequisites: For programmers and engineers who want to develop expertise in blockchain technology with Hyperledger Fabric specialty.
Learn the Basics of Blockchain with Python (Codecademy)
Key elements: This self-paced, two-hour certification course provides an introductory overview of blockchain and common terminology, the structure and properties of the blockchain and individual blocks that comprise it, and the features providing security between different blockchain participants. The course provides a hands-on learning capability with an interactive platform to help individuals learn by doing. The program also allows students to build a blockchain library using Python as well as create and tamper with blocks through interactive simulation. Topics covered include the following:
how blockchain networks work;
hashing and cryptography;
creating a mini-blockchain using Python;
how to use a hash function using Python;
generating block hashes; and
verifying blockchain integrity and hacking the chain.
Prerequisites: Some knowledge of Python but not necessary for most of the course.