Reference
Data center career path: Fast Guide
Data centers offer competitive salaries, enjoyable work and diverse opportunities for workers looking to hit the ground running in a dynamic industry. Driven by new technologies like the Internet of Things (IoT) and artificial intelligence (AI), companies operating in a wide range of industries are being compelled to invest in new digital infrastructure to support ongoing growth. Nowhere has this need been felt more pressingly than in data centers.
For data centers across the country, keeping up with this fast pace of change is proving to be a challenge. From adapting supply chains to meet clients' multiplying needs, to implementing energy-efficiency strategies to keep their facilities running at optimal levels, data center professionals are finding it increasingly difficult to deliver reliable performance to the corporate teams that need it.
Today, the data center industry is undergoing a massive technological revolution and, as a result, it has become an exciting and rewarding place to start a career. With competitive salaries, high job satisfaction and a wide range of opportunities, it's clear that the industry has a lot to offer tech-savvy professionals who are trying to decide where to invest their time.
As data centers face growing demand from the increasingly digitized economy and struggle with a pressing staffing crisis, the time has never been better for workers to start a career in the data center sector. In addition to competitive salaries, high job satisfaction and a variety of ways to get involved, forging a career in an industry that will form the foundation of the newest technologies is a savvy move that is likely to pay immense long-term benefits.
Data center staffing shortages
An ongoing and, by some accounts, worsening data center staffing crisis isn't making it easy for companies to decide what information technology (IT) services to keep in house and what to move to the cloud. According to the Uptime Institute, 61% of data center administrators have had difficulty recruiting staff -- up from 55% in 2018. A different Uptime Institute study claims that nearly half of the data center administrators interviewed expect staffing shortages to limit their growth in the next five to seven years.
For workers, this amounts to a unique opportunity to get involved in an industry that needs a new generation of talent. And while the staffing crisis may dominate the headlines, the data center industry is hardly in a state of disarray. Indeed, data centers offer tech- and IT-minded individuals a wealth of benefits that make the industry a compelling choice for individuals who are launching or changing their professional lives.
How to approach IT staffing in today's data center
Years ago, it took a small army of highly trained IT professionals to run a corporate data center. That's changed.
Skills needed to work in a data center
For both students and early-career professionals just starting to find their way through the job market and established professionals looking to change jobs, it's important to note that there are many different paths to take when pursuing a career in the data center industry. Everything from a background in electrical and mechanical work to proficiency in nuclear engineering can help young professionals make important contributions to data center operations.
A career in data centers demands critical thinking, leadership abilities and technical expertise; professionals in the field are compensated accordingly. By working in a data center, professionals making their way into the job market can bring diverse skill sets to bear on some of the most interesting challenges currently facing the IT industry.
A survey commissioned by Data Center Knowledge (DCK) found that professionals working in data centers are engaged in a compelling and diverse array of roles. According to the survey, there are nine areas of IT for which data center professionals need strong skills:
Leadership
Network management
Security
Applications management
Collaboration
Data center salaries
The Data Center Knowledge (DCK) survey showed that half of all data center professionals reported annual salaries of $100,000 or greater, with nearly 10% reporting salaries at or above $200,000. Only 18% of survey respondents said they were C-level executives, meaning these robust salaries aren't reserved solely for a select few. Reportedly, some of the highest salaries correspond with skill sets that support managing data centers with hybrid-cloud and multi-cloud architectures.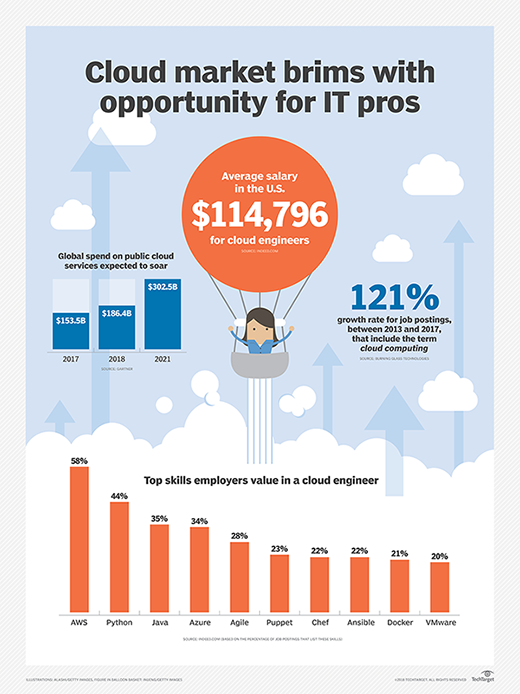 Data center certifications
Beyond developing expertise in data- and tech-oriented fields, young professionals should remember that certifications are a key part of securing a profitable future in the data center industry. For those just starting their data center careers, a basic certification in physical infrastructure -- such as Schneider's Data Center Certified Associates (DCCA) -- is a great way to begin developing an understanding of cabling and security.
Alternatively, young professionals interested in networking might want to investigate a networking certification such as the Cisco Certified Network Professional (CCNP) and Cisco Certified Internetwork Expert (CCIE) certifications. Those angling for a management position should work toward the Uptime Institute's Accredited Tier Designer, Accredited Tier Specialist and/or Accredited Operations Specialist certifications.
Data center job titles
The specific roles open to individuals will depend on their prior experience and technical training. However, several key roles that are in high demand across the data center industry and are great targets on which to set one's sights include:
Data center operations managers
Network/computer systems engineers
Data center electrical/mechanical engineers
Data center operations managers are a must in the evolving data center landscape, as they help unify strategy related to design principles and facility equipment, technology and components. Network/computer systems engineers work with IT specialists to design, install and maintain network assets that are critical to overall network security. Data center electrical/mechanical engineers oversee data centers' physical infrastructure, including HVAC and fire suppression systems and stand-by power generators.
Over the years, specific job titles for employees who work in a data center have evolved to stay current with new technology. Here is a short list of titles that have remained popular over the years:
Data Center Administrator
Because DCAs are in charge of business-critical systems, they need to have an in-depth knowledge about everything that occurs in the data center, including infrastructure design, operations and lifecycle management for physical and virtual data center assets.
Chief Architect
C-level executive whose job is to look closely at how IT functions can be centralized so that departments across the company can work together seamlessly. The chief architect may also be called the enterprise architect (EA).
Cloud Architect
IT professional who is responsible for overseeing a company's cloud computing strategy. This includes cloud adoption plans, cloud application design, and cloud management and monitoring. Cloud architects oversee application architecture and deployment in cloud environments -- including public cloud, private cloud and hybrid cloud.
Data Engineer
Specific tasks handled by data engineers can vary from organization to organization but typically include building data pipelines to pull together information from different source systems; integrating, consolidating and cleansing data; and structuring it for use in individual analytics applications.
Data Wrangler
Employee who cleans up big data sources to prepare them for data analysts and data scientists. The job was created to allow those with high-level skills to be employed most effectively rather than on work that could be done by others.
DevOps Engineer
IT professional who works with software developers, system operators (SysOps) and other production IT staff to oversee code releases and deployments. The role calls for someone who has relevant hard and soft skills to overcome the traditional barriers between software development, QA, testing IT operations teams and foster a collaborative, holistic environment.
Full Stack Developer
Programmer that has a functional knowledge of all techniques, languages systems engineering concepts required in software development. The term "full stack" refers to the technologies and skills needed to complete a project, with each individual component being a stack.
Network Engineer
Technology professional who has the necessary skills to plan, implement and oversee the computer networks that support in-house voice, data, video and wireless network services.
Systems Administrator
Person who supports a multi-user computing environment and ensures continuous, optimal performance of IT services and support systems. System administrator job responsibilities vary greatly among employers.
Virtualization Administrator
Employee whose responsibilities include virtual environment set up and maintenance, in addition to traditional sysadmin duties. That virtual environment could consist of operating systems, network resources, servers, storage, desktops, applications and/or data.
IT Director
Employee in charge of technology within an organization. IT director is sometimes used interchangeably with CIO but, in the majority of large enterprise organizations, they are two separate positions.
Site Reliability Engineer
Specialist who works with software developers to ensure that an organization's computing systems are scalable, stable and predictable. The position calls for someone who is comfortable with both software engineering and IT operations.
Database Administrator
Information technician responsible for directing or performing all activities related to maintaining a successful database environment. A DBA makes sure an organization's database and its related applications operate functionally and efficiently.
Chief Information Security Officer
Executive responsible for developing and implementing an information security program, which includes procedures and policies designed to protect enterprise communications, systems and assets from both internal and external threats. The CISO may also work alongside the chief information officer to procure cybersecurity products and services and to manage disaster recovery and business continuity plans.
IT Project Manager
Professional charged with overseeing the process of planning, executing and delegating responsibilities around an organization's information technology (IT) pursuits and goals.
This was last updated in
January 2020
Continue Reading About Data center career path: Fast Guide