A waveform is a representation of how alternating current (AC) varies with time. The most familiar AC waveform is the sine wave, which derives its name from the fact that the current or voltage varies with the sine of the elapsed time. Other common AC waveforms are the square wave, the ramp, the sawtooth wave, and the triangular wave. Their general shapes are shown below.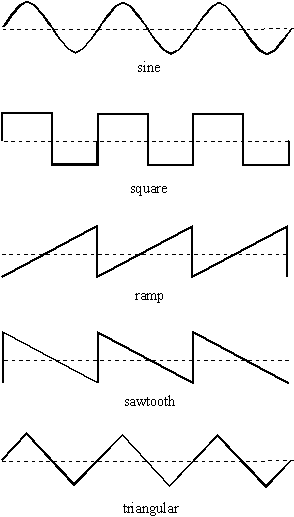 Some AC waveforms are irregular or complicated. Square or sawtooth waves are produced by certain types of electronic oscillators, and by a low-end UPS (uninterruptible power supply) when it is operating from its battery. Irregular AC waves are produced by audio amplifiers that deal with analog voice signals and/or music.
The sine wave is unique in that it represents energy entirely concentrated at a single frequency. An ideal, unmodulated wireless signal has a sine waveform, with a frequency usually measured in megahertz (MHz) or gigahertz (Ghz). Household utility current has a sine waveform with a frequency of 60 Hz in most countries including the United States, although in some countries it is 50 Hz.
This was last updated in
September 2005