Definition
Data Dynamics StorageX
Data Dynamics StorageX is file management software that can be used as a data migration tool for network-attached storage filers, as well as for storage tiering and provisioning.
StorageX was originally developed by NuView Systems, which was acquired by Brocade Communications Systems in 2006. In 2012, after finding little success with the product, Brocade sold the intellectual property to Data Dynamics.
When Data Dynamics released StorageX 7 in 2013, it shifted the focus to data migration. Compatible with NetApp Data Ontap, EMC VNX and EMC Isilon, StorageX provides migration between any of those storage platforms or different versions of the same platform. Data can be moved at a collective or granular level.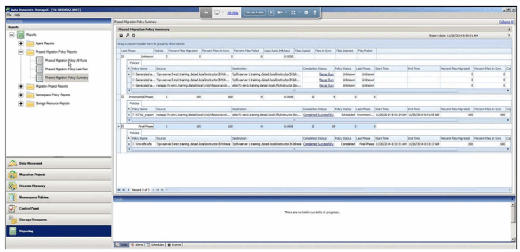 StorageX 7.5 uses Microsoft Distributed File System to virtualize storage environments and to help run non-distruptive data migrations (as shown in the screenshot above). The product also offers Common Internet File System-based disaster recovery and automated failover.
According to Data Dynamics, future versions of StorageX 7.5 will support object storage and Hadoop.
This was last updated in
June 2015
Continue Reading About Data Dynamics StorageX