Definition
Lakeside Software
Lakeside Software is a desktop monitoring software company known for its SysTrack product, which provides performance data and analytics for physical and virtual desktops.
Founded by Mike Schumacher in 1997, Lakeside Software has grown to a medium-sized business focused on workspace analytics. The organization is based out of Bloomfield Hills, Mich.
Lakeside Software's desktop management suite helps IT track user experience, monitor desktop performance and interactions, and run root cause analysis on desktops. Like most endpoint monitoring software on the market, SysTrack offers analytics-based reports based on user and device performance and identifies problematic hardware for IT to investigate.
SysTrack distinguishes itself from similar products by tracking interactions between both physical and virtual desktops within an organization and including broad compatibility with multiple OSes and software vendors. It also has a unique search engine for IT to ask simple questions about device performance, suite functions and more.
SysTrack features
When an organization purchases SysTrack, it has access to all of the suite's features, tools and functions. One of the defining features of the suite is Ask SysTrack, a searchable insight engine designed to help IT professionals navigate SysTrack more efficiently and answer any questions they have. It is powered by IBM's Watson Natural Language Classifier to connect searchers with the tools and functions they are looking for.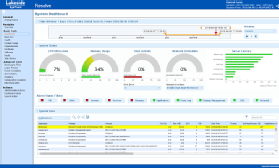 Another unique feature of SysTrack is its analysis of system performance, which provides an organization's executives with information regarding the most efficient use of infrastructure investments. Executives can use SysTrack as a budgeting tool to better quantify IT's needs and effect on the organization. It can also help demonstrate what type of benefits an organization can realize if it invests in more hardware or additional IT labor.
SysTrack also automatically creates a report of any inefficiencies users are experiencing and alerts IT when performance issues arise. SysTrack flags user problems and generates an alert even if an IT professional is actively using the software.
One of the most notable omissions in SysTrack is a logon simulator, which many competitors, such as eG Innovations and Goliath Technologies offer.
Citrix integration
Lakeside Software's SysTrack has some distinctive Citrix XenApp and XenDesktop integration features that separate it from its competitors. For example, Ask SysTrack allows IT to ask questions such as "Do I have any Citrix licensing issues?" The XenApp dashboard provides IT with a look at aggregated application performance across time periods and can help IT identify which apps are having problems such as latency issues.
Along with this searchable integration, SysTrack offers a Citrix Director Plugin, which allows IT to view user data through the Citrix Director interface. With this plug-in, IT can view historical data on user experience, sort users into groups and more. IT administrators can jump back and forth between the plug-in and SysTrack's interface as well with built-in links that the plug-in places in the program.
SysTrack Visualizer helps IT make sense of desktop and application performance data by user group or by individual desktop and app. Further, SysTrack can generate reports based on the massive amount of data in SysTrack Visualizer and identify areas where an organization could benefit from using XenApp and XenDesktop.
ControlUp Real-Time, which features app configuration tracking, Liquidware Stratusphere UX, which helps IT evaluate the match between a user's required desktop capacity and his actual desktop capacity, and ManageEngine Desktop Central, which helps deploy updates and patches across company systems after testing for compatibility, are Lakeside Software's main competitors.
This was last updated in
July 2018
Continue Reading About Lakeside Software
Dig Deeper on Virtual desktop delivery tools