Definition
texture mapping
Texture mapping is a graphic design process in which a two-dimensional (2-D) surface, called a texture map, is "wrapped around" a three-dimensional (3-D)object.Thus, the 3-D object acquires a surface texture similar to that of the 2-D surface. Texture mapping is the electronic equivalent of applying wallpaper, paint,or veneer to a real object.
The simplest texture mappings involve processes such as that shown below. Three identical squares, each covered randomly with dots, are directly mapped onto the three visible facets of a 3-D cube.This distorts the size sand shapes of the dots on the top and right-hand facets.In this mapping, the texture map covers the cube with no apparent discontinuities because of the way the dots are arranged on the squares.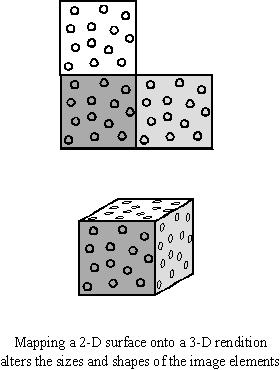 In some mappings, the correspondence between the 2-D texture map and the 3-D object's surface becomes "messy." An example is the application of a pattern of squares to the surface of a sphere. It is impossible to paste checkered wallpaper onto a sphere without cutting the paper in such a way as to create discontinuities in the pattern. This problem occurs with many texture mappings.
A complex pattern can, in some cases, be seamlessly wedded to the surface of a 3-D object using a sophisticated graphics program.The pattern is generated directly on the 3-D rendition, rather than using a texture map.For example, a sphere can be given a wood-grain finish.The squares-on-a-sphere problem cannot be solved, but it is possible to fit a pattern of triangles onto a sphere by adjusting the sizes of the triangles.
This was last updated in
June 2010