What is hydraulics?
Hydraulics is a mechanical function that operates through the force of liquid pressure.
In hydraulics-based systems, mechanical movement is produced by contained, pumped liquid, typically through hydraulic cylinders moving pistons.
Hydraulics is a component of mechatronics, which combines mechanical, electronics and software engineering to design and manufacture products and processes.
Who invented hydraulics?
It's difficult to pinpoint who exactly invented hydraulics. However, the use of hydraulics-based systems can be traced all the way back to the 1st century.
Blaise Pascal, a French physicist, mathematician, inventor, philosopher and theologian made notable achievements in the fields of hydrostatics and hydrodynamics and is credited with the invention of the first hydraulic press, which used hydraulic pressure to multiply forces.
Additionally, he invented Pascal's law, or the Pascal principle of hydrostatics, which states that fluid at rest in a closed container can incur a high-pressure change without loss to every portion of the fluid and to the walls of the container.
How do hydraulics systems work?
Today's systems include hydraulic components such as actuators, hoses, aqueducts and irrigation systems that deliver water, using gravity to create water pressure. These systems essentially use water's properties to make it deliver itself.
Force multiplication can be created by using a cylinder with a smaller diameter to push a larger piston in a larger cylinder. Often, there will be many pistons.
All types of hydraulic pumps pressurize liquids (typically hydraulic oils), moving a piston through a cylinder and control valves to control the fluid flow rate of oil.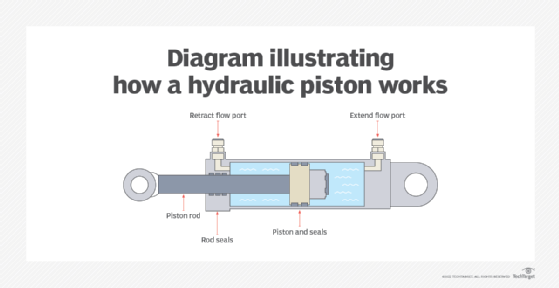 What are the applications for hydraulics systems?
There are numerous applications for hydraulics systems.
Hydraulics are used extensively in the automotive industry for everything from braking systems to power steering. However, they are also used in construction equipment, manufacturing machinery and aircraft.
Hydraulics is so ubiquitous that you probably interact with hydraulics-based systems many times throughout the day without even realizing it.
Examples of hydraulics-based machinery
Now let's look at a few examples of hydraulics-based machinery.
Log splitters
A log splitter is a single-piston hydraulic machine that uses a valve at either end of the cylinder to move the pistons by the pressurized liquid, driving a wedge to force the wood into smaller pieces and return to a home position.
Backhoes
Industrial equipment such as a backhoe often uses several cylinders to move different parts. Electronic controls are generally used for these more complicated setups on large, powerful equipment.
The backhoe's hydraulics system operates the bucket, the dipper arm and the extendable boom.
Bucket trucks
Bucket trucks, also known as cherry pickers, use hydraulics to raise and lower the operator in the bucket to work on high lines or in other elevated areas. The hydraulics system also may be used to rotate the bucket.
As you can see, hydraulics systems have a wide range of applications in many different industries.
Hydraulics vs. pneumatic systems
Hydraulics are similar to pneumatic systems in function. Both systems use pressurized fluid power, but hydraulics use liquids rather than gasses, unlike pneumatics.
Hydraulics systems are capable of more significant pressures: up to 10,000 pounds per square inch (psi) versus about 100 psi in pneumatics systems.
This pressure is due to liquids' incompressibility, enabling more significant power transfer with increased efficiency as energy is not lost to compression, except when the air gets into hydraulic lines. Hydraulic fluids may also lubricate, cool and transmit hydraulic power.
Pneumatics, being less multifaceted, require oil lubrication separately, which can be messy with air pressure.
Pneumatics are more straightforward in design and control, and safer -- with less risk of fire -- partially because the compressibility of the gas-absorbing shock can protect the mechanism.
See also: pascal, gas constant and power take-off
This was last updated in
May 2022
Continue Reading About hydraulics