Definition
electrical pollution (dirty electricity)
Electrical pollution is electromagnetic-field (or EM-field) energy emanating from electrical wiring. In most places, the majority of this energy exists at 60 Hz (hertz), resulting from the AC (alternating current) that constantly flows in the utility wiring outdoors, indoors, and inside common appliances.
Not all of the energy in utility electricity occurs at the standard AC frequency of 60 Hz (50 Hz in some locations). Emissions also take place at various other frequencies. These emissions, sometimes called dirty electricity, result from the use of appliances that generate irregular waveforms and transmit the resulting currents into the utility wiring. Vacuum cleaners, hair dryers, fluorescent lamps, and some consumer electronic devices produce this type of energy.
In recent years, controversy has arisen concerning alleged adverse health effects from electrical pollution. Some scientists believe that electrical pollution has been a major cause of human ailments ever since the very first use of AC utility electricity (around the year 1900). Others deny that any conclusive evidence exists for adverse health effects in humans.
Various software can produce a spectral display of electrical pollution on just about any computer. The EM energy appears and fluctuates in frequency as you turn on, for example, a big vacuum cleaner.
Here's a screenshot of a spectral display of dirty electricity using a program called HamScope: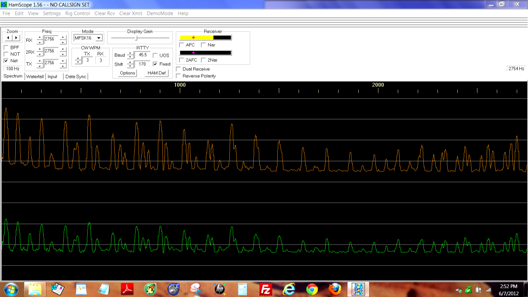 Watch a video that explains how to test your home for dirty electricity:
This was last updated in
June 2012
Continue Reading About electrical pollution (dirty electricity)