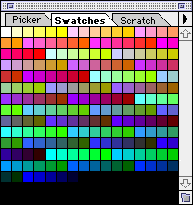 Lynda Weinman's 216-color palette for Mac and Windows browsers
For actual RGB values to specify, see our table containing the 216-Color Browser-Safe Palette.
A palette is both the board on which an artist puts selected colors and also the set of colors themselves. On the Web, choosing the colors you use not only involves understanding which colors work well together but also understanding the capabilities of display screens and browser for displaying the colors you choose. (In the case of pre-created images such as photographs someone else has taken, you don't choose the colors that were captured initially, but you can control which colors are saved for transmission.)
In computer display technology, a color is set for each individual pixel or addressable illumination element on the screen. Each pixel has a red, a green, and a blue (RGB) component. By specifying the amount of intensity for each of these components, a distinct color is given to that pixel. (A good way to remember this if you create Web page is to think of the way the background, text, or link colors are specified in the BODY tag as a string of eight binary digits, where each two-digit sequence (of eight bits, or a byte) represents one of the RGB components.)
For Web presentation, you (or the artist you're working with) will usually want to choose from a palette that is limited to the 256 colors that most computer users can display. Users with very high-quality display monitors and adapters that provides a 24-bit variation for each pixel can view up to 16,777,216 different colors. However, most of us have computers that can only handle an 8-bit variation, limiting us to a (still pretty graphic) 256 color-palette.
If you do use a larger range of colors or pallette than someone's display or browser can handle, the browser will dithering the colors (that is, the browser will find colors within its palette that it can substitute for any color that is outside its palette).
As a designer, you will also want to consider that Mac and Windows browsers do not have identical palettes. In the usual 256 color palette, 216 are common to both types of browsers, but 40 are different and require dithering by one of the browsers.
The figure is provided with the permission of Lynda Weinman.
This was last updated in
April 2005