Definition
statistical process control (SPC)
Statistical process control (SPC) is a scientific, data-driven methodology for monitoring, controlling and improving procedures and products. This industry-standard quality control (QC) method entails gathering information about a product or process on a near real-time basis so that steps can be taken to ensure the process remains under control.
Using SPC, manufacturing engineers or production supervisors can obtain and analyze statistical data about the manufacturing process at a site. The data collected helps determine whether characteristics of the product or process conform to specifications and meet acceptable quality levels.
Eliminating variation from standards helps ensure that the process is stable and monitoring the production process helps spot significant changes from the mean. SPC helps reduce waste by focusing on early detection and prevention of problems, rather than the correction of problems after the fact.
SPC is sometimes used interchangeably with the term statistical quality control (SQC). However, SQC typically focuses on process outputs, or dependent variables, while SPC focuses on process inputs, or independent variables.
SPC tools
Statistical process control techniques and tools can be employed to monitor process behavior, discover issues in internal systems and develop solutions for production issues. SPC can be applied to any manufacturing or non-manufacturing process in which output that conforms to specifications can be measured. This methodology can be used to determine whether the processes are sufficient to generate products within an acceptable quality level if a project is producing many similar products but not if a project is creating only a small number of customized deliverables.
Control charts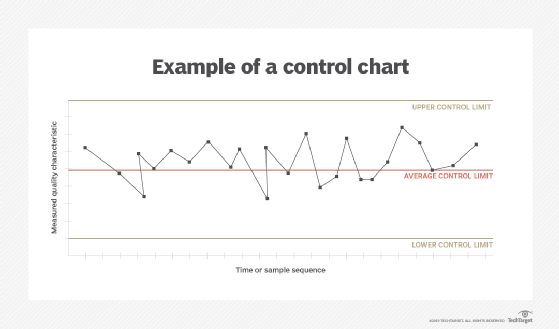 In SPC, process variabilities are examined, and control charts and other tools can be used to refine a statistical process. Control charts enable users to record data and see the occurrence of an unusual event, such as a very high or low observation. Engineers may use standard deviation equations to streamline or refine results. Those seeking to improve processes that deal with statistical information may examine causes of variations and use logical rules to create algorithms for control.
History of SPC
The concept of statistical process control has a long history. Bell Laboratories' Walter A. Shewhart, sometimes referred to as the father of statistical quality control, pioneered SPC in the early 1920s to measure variance in production systems. Renowned quality expert W. Edwards Deming, a student of Shewhart, expanded the concept and introduced it to Japanese industry after World War II. Today, organizations around the world have incorporated SPC to improve product quality by reducing process variation. Thanks partly to the propagation of comprehensive quality systems -- such as ISO, QS9000, Six Sigma and MSA (Measurement System Analysis) -- many companies have been working actively with SPC.
This was last updated in
June 2019
Continue Reading About statistical process control (SPC)