Smart data is digital information that is formatted so it can be acted upon at the collection point before being sent to a downstream analytics platform for further data consolidation and analytics. The term smart data is often associated with the Internet of Things (IoT) and the data that smart sensors embedded in physical objects produce.
The label smart is directly related to a data entry point being intelligent enough to make some types of decisions on incoming data immediately, without requiring processing power from a centralized system. In the past, most analytics was done with batch processing. Data was collected according to schedule, converted to a desired state, put into a database and processed on an hourly, overnight or weekly basis. A drawback of this approach is that by the time the data is analyzed, it's already old. In contrast, smart data analytics programming (also called streaming analytics) monitors data at the source, captures events that are exceptions, assesses them, makes a decision and shares the output -- all within a specific window of time consisting of seconds or fractions of a second.
A self-driving car, for example, can't afford to wait for data to be sent up to the cloud and output to be sent back. It requires data gathered through sensors to be smart, so the data can be immediately analyzed by the automobile's processors and outputs can immediately be sent to actuators that control the car's brakes and steering wheel. If the data is not in a form that can be analyzed as soon as processors receive it, the consequences can be deadly.
Data scientists, business analysts, IT managers, marketing professionals and manufacturers are also experimenting with how to use edge computing and smart data devices to bring in more revenue, improve decision-making processes and spot problems before equipment fails.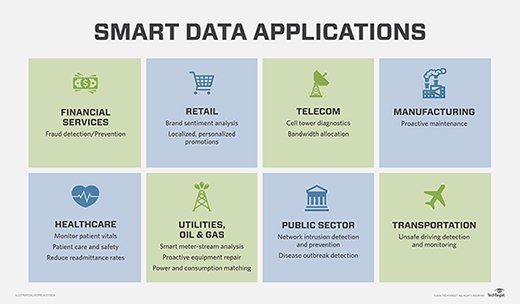 This was last updated in
December 2016
Continue Reading About smart data